DISTRICT BAERS
The Baers is a fraternal organization within the fraternal organization that is Turners. Originally developed to provide a venue for older Turners to continue their athletic endeavors after they had reached an age where they could no longer compete as Actives in their society and inter-society competitions, Baers have evolved to be an organization of importance throughout Turners.
Turnvereins across the nation have Baer organizations within their membership. In the Illinois District both Northwest Turners and Eiche Turners have strong Baer organizations; and the Illinois District Baers exists as a separate, related organization consisting of male members of any of the District Societies, which have reached 35 years of age and signed on with the Illinois District Baers. The District Baers are particularly valuable to Turners out at camp, while the annual dues are only $2.00. The yearly election of officers is conducted at the Baren Höhle.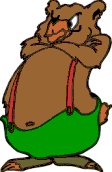 The Illinois District Baers own and maintain the Baren Höhle, one of the most important structures in the Illinois District Turner Camp. The Baren Höhle is used for many Turner functions throughout the calendar year. This summer, Lincoln Turners will be inviting all Turners to a picnic at the Baren Höhle. And the Baren Höhle is open to Turners on weekends during the season for playing "bags", viewing Cub, Sox, and Bear games, and enjoying gemuetlichkeit, The "Snow Bears", a subsidiary of the District Baers, meet and start and end their outings at the Baren Höhle. The upstairs dorm room at the Baren Höhle is available for members use for overnight stays in camp, for a small fee, particularly when attending District events such as the Golf Outing, or Volleyball Tournaments. The Baren Höhle is also sometimes available for rental (by members) for private parties, or utilized to house boys enrolled in the Gym program, or visiting teams. The Baers are organizing efforts to repaint, repair and update the Baren Höhle this summer.
A big weekend is planned for 20 – 22 May: there will be a card party in the Baren Höhle the evening of Friday, 20 May; followed by a Clean-up Day on Saturday, 21 May with a Karaoke Party that evening; and a Dinner on Sunday afternoon (22 May), created and served under the direction of Bill Boergerhoff.
Illinois District Baers contribute in many ways to Turners and Turner Camp; money is given to support youth programs in camp, and the Baers are always to be found, individually and collectively, working to improve things around camp.
Officers of Illinois District Baers
President: . . . . . . . . . . . . . . . . . . . . . Kevin Dahm (Elgin Turners)
Vice President: . . . . . . . . . . . . . . . . . Tim Kennelly (Elgin Turners)
Treasurer: . . . . . . . . . . . . . . . . . . . . . Terry Fetzer (Aurora Turners)
Secretary: . . . . . . . . . . . . . . . . . . . . . John Joens (Eiche Turners)