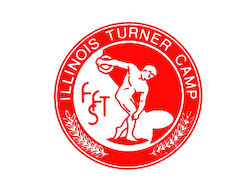 Greetings Fellow Turners!
Welcome to the 104th season for the Illinois Turner Camp!  The Illinois District and the Camp Committee have already been at work planning and setting things in motion for another great season.
Please review all the information enclosed in this packet.  Your cottage's three volunteer duties are in the schedule.  If you have a conflict with one of your duties, it is your responsibility to switch duties with another cottage owner to make sure your shift is covered.  Any switching of bar duties must be approved by the Bar Chairman, Kevin Dahm.  Please note the no show fine for missing an assigned duty is $250.  The Camp Committee doesn't want to assess this fine.  Please do your assigned duties or arrange for a substitute.  We've had too many no shows in recent years leaving your fellow cottage owners who do show up in a bind.
Speaking of volunteers, as most of you know Turner Camp is run largely by the volunteer help of our cottage owners and committee members to keep it the affordable experience it is.  Please note the cleanup days for the Raths and the pool are scheduled for these facilities in the month of May and plan to attend.  They all start at 9am and snacks and lunch are provided!  What we don't get done with volunteers still needs to get done and will be done with hired help which we will all pay for in the October ground lease.  Come out and help!!  Please note for volunteer bartenders your Bassett certification must be renewed every three years so if your certificate issue is older than June 2015, you will need to renew your certificate and provide a copy to Shawn Stevenson.
Our Facility Manager, Dave Cross, has been busy this past off-season.  The re-model of the A-Field men's and women's bathrooms is complete.  The A-Field well has been installed and work to connect the A-Field bathroom facility and downstream fountain spigots will be completed this spring and summer.  Work to get ready for a new well around the big parking lot will also be happening.
If you notice something that needs to be taken care of around camp, you can call Dave at 224-800-3636 and leave a detailed message.  You can also go to the District website, illinoisturners.org, and use the "Report a Facility Problem."  These requests are electronically sent to Buildings & Grounds to be reviewed.
The camp schedule and food service are enclosed in this mailing.  I want to draw particular attention to Founders Day weekend which is a week early, July 27 & 28, due to the National Convention a week later.  On Friday evening following the Fish Fry, there will be a Celebration of Life for Dorothy Janssens which will include a sing along of the songs Dorothy played for decades.  Saturday morning is a full day!  Join us at 10am at the front gate for the Founders Day parade through camp to the A-Field for festivities.  Then as festivities wind down, you can participate in the 4th Annual Turner Trot- a run and/or walk through camp.  Food & beverages will be available for lunch and proceeds of the Turner Trot will go towards new playground equipment.  The dinner will be your choice of Sauerbraten or Pork Roast with all the trimmings at 6pm in the Raths.  Entertainment for the evening will be Euroexpress, a great Oktoberfest band.  Don't miss it!
With Turner Greetings,
Scott Lau
Illinois District President