The first Turner club (Turnverein) was founded by Friedrich Ludwig Jahn in Berlin, Germany in 1811. The first Turner organization in America was formed in 1848 in Cincinnati, OH. by German immigrants who had been members of Turnvereins in Germany. Others were established in rapid sequence in New York, Louisville, Philadelphia, Baltimore and Brooklyn. By 1851 were over 2,000 Turner members belonging to Turner clubs located from Boston in New England to St. Louis in the Midwest and by 1860 the membership had increased to 20,000 belonging to 150 Turner clubs. Each Turner club was affiliated with a local District which in turn was affiliated with the National Turner organization.
The first Turner club organized in Chicago was the Chicago Turnverein founded in 1852. Shortly thereafter other Turner clubs were established in Chicago and the 1st Illinois District was established. By 1906 there were 24 Turner clubs affiliated with the Chicago Turnbezirk (forerunner of the Illinois District). As the Turner clubs spread to other sections in northern Illinois the name was changed to Ausschuss of the Illinois Turnbezirk and finally to the Illinois District of the American Turners.
In 1884, Turner members of the Illinois District were responsible for introducing physical education classes into the Chicago Public Schools and provided the first instructors for these classes. In 1895, these Illinois Turners established the 1st playground in Chicago in Douglas Park and for many years the Turners provided the supervisors and directors for all the playgrounds in the Chicago parks. One of the parks located on the north side of Chicago is named in honor of Turner Theodore Gross who was the supervisor of the Chicago playgrounds for many years.
From the beginning, the Illinois District has conducted physical education meets and tournaments for its member organization in gymnastics, volleyball, softball, track & field, basketball, horseshoes, bocce ball, bowling and swimming, Also cultural competition and shows and a full schedule of social activities for all family members.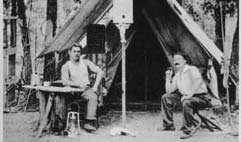 In 1914, Alfred O. Wild (an instructor at one of the District gymnasiums), was instrumental in locating a track of land on the Fox River in Cary, IL. suitable for summer activities for the Turner members and families. This property was leased by the Illinois District from 1914 until 1919 and tents and a dining facility were erected thereon. This facility provided physical education, swimming, boating and social activities for the Turners. More space was required and in 1919 44 acres were purchased across the Fox River between Fox River Grove and Algonquin, IL. Additional property was subsequently purchased so by 1925 the Illinois District owned approximately 130 acres.
There have been over 200 individual family summer cottages constructed on this land in addition to an Olympic size swimming pool, athletic field, tennis courts, softball field, horseshoe pits, volleyball courts, basketball court, playground, beach, dining hall, children's dormitories, men's clubhouse and ladies clubhouse. During the summer months a full supervised children's program in physical and cultural education is offered.
WANT TO KNOW MORE?  Check out the featured articles and video links below.