The Illinois District of the American Turners is incorporated under the laws of th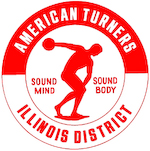 e State of Illinois as an educational institution, organized not for profit. The Illinois District is one of 13 Districts, located throughout the United States, that are currently affiliated with the American Turners, Inc., whose Principles and Statutes the Illinois District is obligated to conform to in pursuit of its objectives. Currently there are five local Turner organizations that are affiliated with the Illinois District.
See below for our Featured Articles and Events!
2018 Raths Live Entertainment Schedule
ITC Rules and Regulations Amendment
Own a Pier? Check this out by April 30th!
Upcoming Events:
Ballroom Dance Class- Interested?  Check this out by May 11th!
Memorial Day Weekend Swimming Pool Fundraiser- Saturday, May 26th
Family Fest 2018- Saturday, June 30th
ITC Pickleball Clinic- Sunday, July 1st
Founder's Day- Saturday, July 28th
Tennis/Pickleball Fun Day- Saturday, July 21st
 See Full List of 2018 Illinois District/Turner Camp Calendar Events >