Feed Entries
Illinois District of the American Turners
| | | |
| --- | --- | --- |
| 2016 4 Person Volleyball | | |
Written by Robert R. Haderlein
Tuesday, 05 July 2016 15:42
4 Person Volleyball Tournament
The annual Illinois District Summer Volleyball Tournament is set for Saturday, July 16, 2016. Captains meeting is at 8:45 AM and play begins at 9:00 AM in the Sugar Bowl at Illinois Turner Camp.

It will be a round robin competition with four-person teams in three divisions:  A-Power Volleyball, B-Intermediate Volleyball, and C-Recreational Volleyball, followed by playoff competition.  Play will be in accordance with USVBA Rules (speed scoring with games to 25 points) modified for outdoor play.  Teams can be any combination of men and women.  Players must be an American Turner member, a spouse or minor child of a Turner member.

The entry fee is $40 per team IN ADVANCE payable to Illinois District of the American Turners.

Jim Haderlein3049 N. Ashland AvenueChicago, IL  60657

or via fax to 773-525-7053.

Inquiries can be made at info@illinoisturners.org or by phone to 773-525-4666 EXT: 15 or 773-348-5489.
Last Updated on Thursday, 07 July 2016 10:13
| | | |
| --- | --- | --- |
| IL Dist. Turners 2 Person Scramble Golf Tournament | | |
Written by Robert R. Haderlein
Wednesday, 01 June 2016 13:20
IL Dist. Turners 2 Person Scramble Golf Tournament
An Illinois District of the American Turners - Turner Cup Event
Saturday, June 25, 2016 - 10:45 AM         Bonnie Dundee Golf Course
270 Kennedy Drive, Carpentersville, IL 60110.  847-426-5511  
Route 25 and Dundee Road (Route 68)
EXCITING 2 PERSON SCRAMBLE    -    Handicapped for senior's, women, and bad golfers
A Prize on Every Hole plus SKINS     Men's, Women's and Couple's Championships
$60.00 PER PERSON $120 PER TEAM
For more information contact Bob Haderlein 773-859-2398 or rhaderlein@gmail.com
Last Updated on Wednesday, 01 June 2016 13:29
| | | |
| --- | --- | --- |
| District Cultural Competition | | |
Written by Administrator
Wednesday, 04 May 2016 21:57
ATTENTION ALL CRAFTERS:
There will be a District Cultural completion held at Illinois District Turner Camp July 28th-30th. Entries close July 8th 2016. Entry forms are available at your club along with the classification list. They will also be available Below. Any questions contact Sue Knisley
Thanks,
Sue Knisley
District Cultural representative
| | | |
| --- | --- | --- |
| 48th ANNUAL ALL TURNER PICNIC IN FLORIDA | | |
Written by Chic Martin
Tuesday, 22 December 2015 13:00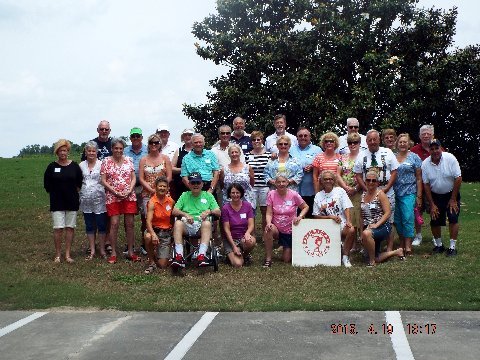 48th ANNUAL ALL TURNER PICNIC IN FLORIDA
We will be hosting the Annual Turner Picnic for the 12th year. The date has been set for Sunday, April 24, 2016. It will be held at the same location as last year, the Chatham Recreation Center, located in The Villages, Florida.
We will again be attempting to follow somewhat of an agenda, so we are able to fit in all the "fun" we have planned for the day! We will begin the day at 10:00 AM; and will have greeters and name tags available at that time.
We will be serving lunch at 12:00 Noon. You will be able to place your order for lunch by contacting Joan Wiseman at [352]750-6885 or email your order to JWise7498@aol.com . Please place your order for lunch by April 15. Please bring your beverage of choice, and we will have ice available. Lunch will be at a cost of approximately $6.50.
We plan a group photo at 1:13 PM. So please plan to arrive prior to this time, so we may include everyone attending in the picture.
After lunch we will have a Bocci Ball Tournament. Teams for Bocci will be drawn from a hat. If you prefer, you can just spend time catching up with old friends!
We would love to have everyone share in this "fun" day with us, so why not plan on a vacation in Florida in April in 2016.
Why not spend the night. We have three Town Squares, with entertainment and fine restaurants, allowing "partying longer"!!!
Lodging in the Villages: Holiday Inn Express (352) 750-3888
La Hacienda (352) 750-6853
Comfort Suites (352)751-5788 or
The new……….Waterfront Inn at Lake Sumter Landing 800-528-3132
and down the road Microtel Motel (352)259-0184
Note :You can obtain a 25% discount at the Waterfront Inn if a Villager makes your reservation!
| | | |
| --- | --- | --- |
| Current 2015 Turner Cup Standings | | |
Written by Robert R. Haderlein
Monday, 14 September 2015 14:46
Click on 2015 Current Turner Cup - below under news
Last Updated on Monday, 14 September 2015 14:59
«

Start

Prev

1

2NextEnd »
Page 1 of 2
Who's Online
We have 66 guests online