Feed Entries
Camp Bulletin
| | | |
| --- | --- | --- |
| Camp Bulletin Week Thirteen 2015 | | |
Written by Chris Mostyn
Thursday, 27 August 2015 11:32
Week Thirteen 2015
For a downloadable PDF of this bulletin click here.



Labor Day WEEKEND We have a lot of great activities, meals, entertainment, and gemutlichkeit lined up all weekend, Ein Prosit!
Friday
Fish Fry & Shrimp Jammers Special
Tony "Frank Sinatra" Costanzo will be singing the oldies and on at 8p.
Saturday
9am Bocce Ball on Beer Mountain/Flag Pole Hill – Thank you Becker Family for hosting
Grill & DJ Ed at the Raths
Sunday
"Must Go" Dinner & Grill open after
Peter "The Piano Man" Miletic will be playing all your requests at 8:30p.
Monday
9 am Singles Horseshoes Tourney at the Raths
11 am Farewell Hors d'oeuvres Party – bring an appetizer to pass
Fall While Labor Day signals the end of the summer camp season, we have great activities in the Fall and beyond.
· Sep 11-13 – Baers Picnic
· Sep 18-20 – All Turner Picnic
· Sep 25-26 – Tuna Tournament
· October & beyond – Barenhohle open for Bears & Hawks games – request to be placed on the Facebook Barenhohle page to be updated
Restaurant Friday's dinner special is Shrimp Jammers, fried shrimp with a blend of Monterey jack cheese, with choice of potato and trimmings. Cheese crust for the steaks is back!!! On Sunday evening the grill is open with a ham and potatoes special. Labor Day Friday's special is German Sausage Plate. Labor Day Sunday is the ever popular "Must Go" dinner. "Must Go" is where we clear out the leftovers of the summer meals and some excess product inventory at bargain basement prices. It will be buffet style until it's all gone. It must go!!! Remember if you have something you'd like to share as a special next year, you only have to prepare for 20-30 people. See Scott Lau (itc119rules@hotmail.com) to discuss details. If you would be available and prefer a Thursday evening Friday morning prep duty wrapping potatoes, preparing salads, etc.in lieu of other duties see Pam or Scott Lau
GROUND LEASE & DUTIES The annual ground leases will be mailed around October 1st and are due by November 1st. Please be aware that part of the ground lease form is your opportunity to express your duty preferences and any specific dates. Keep in mind that while preferences will be taken into account, they cannot be guaranteed.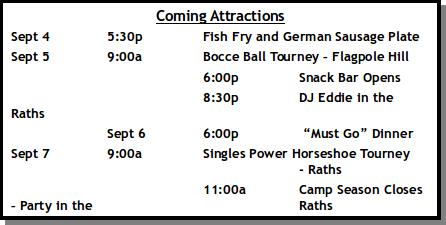 BULLETIN A big thanks to Chris Mostyn for being the editor and publisher of our weekly summer
bulletin. She's been great at chasing people (like me….) down who forget to provide her content by the
deadline and making last minute adjustments. The bulletin is an important part of the ongoing
communications at camp and we appreciate Chris's efforts!!!
CLEANUP When dining and having refreshments in the Rathskeller please remember to clear your tables
and dispose of plates and glasses in the trash. If you have a beverage left you do not want to finish, please
take that to the bar so it can be poured down the drain. Remember we have no wait staff at the Raths. If
you leave a mess on your table it could be you cleaning it up the next morning if you have a duty on the
morning cleanup crew.
Tree Removal and cottage remodeling projects Please remember that removal of any tree and
cottage projects can only be done with Buildings & Grounds approval. If you have a tree that needs to be
removed or a project please contact Howard Boress for review and approval. There are forms and
instructions on the District website IllinoisTurners.org. If you have an emergency situation where a tree has
partially fallen or is threatening your cottage please contact Dave the Facility Manager at 224-800-3636 for
review.
VOLUNTEERS NEEDED The Illinois Turner Camp Committee is seeking two volunteers for a three year
term to help manage the wooded property across from camp and enforce Turner camp policy for no hunting,
no dumping and no trespassing. The three year term will run from Oct.1 2015 to Sept. 30 2018. New
applications will be solicited in Aug. 2018. For years there has been a serious problem with Trespassing,
Illegal hunting/Poaching and Dumping. The Camp Committee is seeking two responsible, qualified and
trusted individuals to manage the property, report trespassers and dumping to police, and prevent/report
illegal hunting in the wooded property across the street from camp. Volunteers will check the property twice
a week during the off season, check in with the camp facility manager weekly and present a report at all the
camp and district committee meetings. Volunteers will be given permission to bow hunt the property during
bow season for their contribution to camp. If you are interested please send a resume to the Camp
Committee no later than Sept. 15th. Please include your name, address, phone and email, Society and how
long you have been a member. Please include if you are a cottage owner and the frequency you are at
camp in the off season. Send resume to Illinois Turner Camp PO Box 211 Fox Rive Grove, IL 60021.
Individuals who have previously violated camp rules on trespassing, dumping or illegal hunting in the woods
across from camp will not be considered or allowed input on this project. Thanks Kevin Dahm
INTERNATIONAL TURNFEST If you enjoyed the recent National Turnfest in Aurora, imagine how
much fun it would be to join fellow Turners at the 2017 International Turnfest in Berlin, Germany! We have
started a list of Turners who would be interested in joining us for a memorable trip. The dates of the fest are
June 3-10, 2017. If you would like to be kept up to date with the plans please send your name and
Email/phone to Pam Lau plauquilts@sbcglobal.net or 847-876-4951.
BOCCE BALL SIGNUP Please see the signup dates for Bocce Ball this year in the Raths:
Fri Aug 28
Sat Aug 29
Fri Sept.4
Thanks Dick & Mary
NW BAERS PICNIC DATE HAS CHANGED Please join the Baers on September 11, 12 &13. Details
to follow
WEEKLY BULLETIN The weekend bulletin is being published by Chris Mostyn. If you would like to
publish an item please email me no later than Wednesday afternoon healingpajamas@yahoo.com. Thank