Feed Entries
Camp Bulletin
| | | |
| --- | --- | --- |
| Camp Bulletin Week Six 2014 | | |
Written by Chris Mostyn
Friday, 11 July 2014 13:44
Week Six 2014
For a downloadable PDF of this bulletin click here.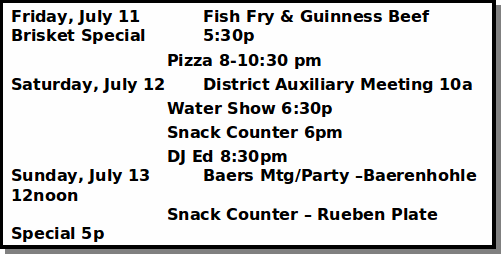 ITC Cottage Owners:
A big shout out to interim Caretaker Pat Kennelly and Maintenance Assistant Paul Franczyk, who, in conjunction with Howard Boress and the Building and Grounds committee, have been doing an outstanding job addressing various issues within Camp.
Listed here is a brief list of just a few of the items completed last week:
A-Field Washrooms: Tuck pointed cracked mortar on the men's side of the washroom, worked to shore up the foundation on the A-field side of the structure, replaced the toilet seat in the middle stall
Pool: Addressed safety issue of lifeguard chair by repairing broken bolts, repaired light fixtures in pool maintenance room, replaced cover on electrical box in pool maintenance room with GFI weatherproof cover, replaced the non-working GFI outlet behind the pool barn, fixed swing mechanism on gate to pool eating are
Raths: Changed locks on parking lot garage, ran drain to air gap, fixed sweeps to double doors
A-Field: Hung a hose-hangar on the tree by the water pump to keep hose off ground and to make the area more tidy as well as safer for the campers.
These are just a representative sample of the efforts being made to ensure your satisfaction with ITC and the operations.
Also, the Illinois District Council has posted for a Caretaker for Camp on Monster.com and on the American Camp Association website. We expect to have several qualified applicants to consider over the next few weeks – with a goal of having the individual identified by August 1st and on board shortly thereafter. We will keep you posted.
The Tweenie's would like to thank everyone that came out to the Tweenie breakfast. It was a great success, serving 245 breakfasts!! We can not say enough about the hard work our team put in cooking, cleaning and setting up. It was a great effort by all. We would also like to thank everyone that donated raffle prizes. Everyone pulled together and collected some great stuff. Because of that we had record raffle ticket sales.Our next event is the Tweenie dance this Saturday night after the water show. Come all ! Admission to get in will be $3. Greg Kusch and Mike Sullivan will be your DJ's for the evening. Should be a great time! Barb Litza & Shawn Dahm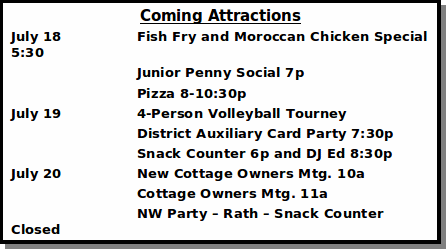 Volleyball Tournament Get team together for the 4 person volleyball tournament on Saturday July 19th. To get a roster or more information see Jim Haderlein in the Raths on Saturday night or at the volleyball courts on Sunday morning. He will be in the Raths Friday night July 18 or call him at 773-3485489. Jim Haderlein
Ladies Our card party will be on Saturday July 19th at 7:30p in the Dining Hall. Ann Trankle
Il District Turners Annual Golf Outing Golfers and Duffers please join us on July 26 at 10:45a
Bonnie Dundee Golf Course. This is a Turner Event this is open to guests of members. $65.00 per Golfer – One member per Team/Foursome. If you have any questions call Bob Haderlein at
773-859-2398 or email rhaderlein@gmail.com
Northwest Mass Drill Due to popular demand we're inviting members of other Societies to participate in our traditional Mass Drill for the Anniversary celebration. Practice will be at 11a on the A-Field the next two Sundays. It's great exercise and brings back wonderful memories of old Turner classes and Turnfests. Please join us. Cheryl Bothfeld
Elgin Turners will be hosting their annual luau on July 17th. Dinner will be served starting at 6:00 and will include Pulled Pork and Chicken, Hawaiian Pizza, various sauces, slaws and other items.We will be also hosting a meat raffle that evening.
Youth Be sure to stay after awards tonight to dunk your favorite counselors in the Dunk Tank!
Don't miss the 2014 Wizard of Oz Water Show on Saturday, July 12th at 6:30 pm! Please note that the pool will be closing at 4:30 pm to prepare for the show. Please let Alexa know if you are interested in helping set up and tear down the backdrop.
Congratulations to the Campers of the Week from 2 weeks ago: Mikey Pardo and Mackenzie Boress; and Swimmers of the Week: Lydia Klemm, Aly Gatz, Addison Tuecke, Kyle Smith, Mikey Pardo, and Nick Gerstbrien. We would also like to congratulate last week's Campers of the Week: Danny Sullivan and Kylie Borck; and last week's Swimmers of the Week: Brandon Pucinski, Parker DeRusha, Kassidy Webb, Keith Koehler, Matthew Litza, and Madison Dahm. Great job!! The 9 and Under Sleepout is this Wednesday. Campers who intend on sleeping out should be at the "Superhero" campfire beforehand. On Thursday, the 10 and overs will be going on a Paintball field trip and the 9 and unders can choose to sleep in. Friday is the 2014 Talent Show! Please sign up with Erin if you are interested in participating. The lifeguards would appreciate your help during the week with collecting admission. If you bring a guest up to the pool during the week, please pay one of the lifeguards who are not sitting in the chair. Thank you!
Northwest Birthday Party for Camp Sunday July 20 @ 1p at the Raths. Please bring an appetizer. If you choose, a small donation towards the food would be welcome. Northwest will provide their pork tenderloin appetizer on the grill. We are planning on a fun and games to get us in the mood for our 100th.
Cheryl Bothfeld
| | | |
| --- | --- | --- |
| Camp Bulletin Week Five 2014 | | |

Written by Chris Mostyn

Monday, 07 July 2014 07:41

Week Five 2014

For a downloadable PDF of this bulletin click here.



























Message from the District President – I understand there are many cottage owners who have questions around Jack Bucaro's departure as our facility manager. Keep in mind, that as an employer in the State of Illinois, the Illinois District is obligated to follow the laws of the state in matters like this. As such, it is not appropriate that the District share any further details. I realize this may be frustrating, but it is in the best interests of the Illinois District, the District's employees, and Turner Camp. Please be assured that the District Council takes employment issues and compliance very seriously, and does not make decisions lightly. The District Council and the Camp Committee are working hard to assure that the daily operation of camp and all its facilities continues in an uninterrupted fashion. Pat Kennelly is our interim facility manager and can be reached at 224-800-3636. Thank you to the many volunteers both on and off the council/camp committee who are working hard to keep Turner Camp the place we all know and have come to love. If you see a need I encourage you to take the time to take care of that need. Or contact a council/camp committee member to let them know how you can help. Turner Camp has always been a place where we all pitch in to get the job done! Finally, a hiring committee that is a subset of the District Council and chaired by Jim Roth has been formed. That committee is developing a facility manager job description recommendation to share with the District Council. Once approved, the committee will commence with recruiting and interviewing candidates. More about that process at a later time.

Candy Store The Candy Store would like to apologize for closing early on Monday. Movie night was canceled due to severe storms and lack of customers (except a few crazy staff members) so we decided to close and get to a safer place. Thank you for understanding. Please come down we have plenty of goodies for all! Hours Monday and Wednesday 6:30-8, Friday after awards until 9 and Saturday 7-9.

Barb Litza

Raths As always fun for All! Ed will be spinning music so come out dance, eat and have drinks with good friends. Please note change of date for Hudson-McCoy to Friday August 1 playing on the patio.

Volleyball Tounament Get your team together for the 4 person volleyball tournament on Saturday, July 19th. To get a roster or more information see Jim Haderlein in the Raths on Saturday night or at the volleyball courts on Sunday morning. He will be in the Raths Friday night July 18 or call him at

773-348-5489 Jim Haderlein

Ladies Our Card Party will be on Saturday July 19th at 7:30 pm in the Dining Hall Ann Trankle































Il District Turners Annual Golf Outing Golfers and Duffers please join us on July 26 at 10:45a

Bonnie Dundee Golf Course. This is a Turner Event this is open to guests of members. $65.00 per Golfer – One member per Team/Foursome. If you have any questions call Bob Haderlein at

773-859-2398 or email rhaderlein@gmail.com

Convention We will be hosting the National Convention of the American Turners August 15-17. We need three or four office assistant to help with registration, the minutes, committee reports, copying and collating. These individuals must be available Friday, Saturday and Sunday until each part of the job is completed. Ideally, we'd like good typing and computer skills, familiarity with office copiers and equipment, and ability to work under pressure. A small stipend will be offered for the work. If you'd be interested in being a part of the Convention, please contact

Cheryl Bothfeld at cbothfeld@hotmail.com or anytime at Camp.

YOUTH Will give a two week up date next week. Congratulations to the campers/swimmers of the week look for your name in next weeks bulletin.

Clean Up We are working very hard to have the public buildings and grounds ready for the start of season but we must look to the cottage owners to take care of their cottage and the grounds surrounding it. Please clean up, fix up and paint up. Grass must be cut. If a cottage owner doesn't cut their grass, Camp will do it and charge the owner. The fee escalates if we have to mow additional times. Please do NOT burn leaves around your cottage. Place all landscape waste in the concrete bunkers and Camp will store it until the next burning season or conduct controlled burns as necessary. Camp is permitted to burn in emergency situations.

BRICKS! BRICKS! BRICKS! The first order of approximately 350 Engraved Bricks has been placed and will be arriving later this month. But it's not too late to get in on the Brick Campaign. I will be placing another order later this month. (It's hopeful, but not guaranteed that these bricks will arrive in time for Founder's Day) So pick up an order form down in the Raths, Or go online to www.illinoisturners.org and download a form. Completed forms should be given to or sent to Pam Lau, 740 Harper Ave., Cary, IL 60013. Orders may also be sent via email (with a check to follow) to plauquilts@sbcglobal.net. Bricks make great gifts as well.

Pardon our Dust! The preparation for the installation of the memorial bricks will begin soon. The location is between the Ladies Clubhouse and the Barenhohle, a short walk from the Alfred Wild memorial. The bricks many of you have so kindly purchased will form the center, with plenty of room for future expansion as new bricks are added. The entrance will be a scale replica of the 1930-1940s era archway. Great things to come!

Cottage Rentals If you are renting your cottage please remember the following simple things. First, any renter must be a 90 day member of one of the Illinois District Turner Societies. Second, you must notify the camp committee in writing of your intention to rent. If you don't notify the camp committee, pool and youth program privileges cannot be extended to your renters.








| | | |
| --- | --- | --- |
| Camp Bulletin Week Four 2014 | | |

Written by Ashley Stevenson

Friday, 27 June 2014 13:38

Week Four 2014

For a downloadable PDF of this bulletin click here.















































Tweenie Pancake Breakfast Friday, July 4 from 8-11 am in the Dining Hall. Please come out and support your Turner Tweenies. You won't be disappointed!! We will be calling raffles following the breakfast. Anyone who would like to donate something NEW to the Tweenies for their breaksfast raffle, it would be greatly appreciated. We also need every Tweenie parent to donate a prize. You can drop off raffle prizes to Barb Litza #218, Shawn Dahm #102, or at the candy store. Thank you so much and thank you to those who have already contributed. Barb Litza

T-Bay Pool Fundraiser The second annual T-BAY pizza party and silent auction was a huge success!! Over $2,400 was raised for the pool! Thank you to the donors, buyers, pizza eaters, and Youth STAFF who contributed to this success.

Important News to Share Our facility manager is no longer employed at Illinois Turner Camp. We acknowledge the many years of service provided to Illinois Turner Camp by the outgoing facility manager and recognize his effort to maintain camp in its current condition. We wish him much success in the future. Pat Kennelly has been appointed as facility manager in the interim. For any outstanding issues he can be reached at (224) 800-3636.

Parking Yes it's everyone's favorite subject. Other than 10-15 minutes to unload your car, there is no parking allowed by your cottage. No one wants to look out their window at someone's car. Please be courteous to your neighbors. Initial violations will receive a warning letter. Second violations a $25 fine. Third and subsequent violations a $50 fine. If you have a handicapped permit from the state, please provide a written request and copy of permit to the camp committee. Some citations have already been handed out! Park in the lot and avoid the fines!

Looking for a Part Time Job? Please contact Howard Boress if you are interested in applying for a job cutting the grass and weeding at camp.

Committee Corner Each week we will highlight one of the committees that share responsibility for running camp. The Youth Committee has responsibility for the Youth Program, specifically:

Hire Youth Staff

Oversee Youth Staff at the A-Field and the Pool

Adhere to the Youth budget

Establish new progressive programs to benefit campers

Maintain safe and up to date equipment

Restaurant Summer has arrived. Come on down to the Raths this weekend. Saturday, the 28th is the Martini Bar at 5pm. Please bring an appetizer to share! Sunday, the 29th we will have a BLT Special!

Ladies Our Card Party is will be on Saturday, July 19th. Ann Trankle


































Youth Thank you to everyone who donated and/or attended our first pool fundraiser! It was a huge success! Don't miss the 2014 Rock Concert after awards tonight! Congratulations to last week's Campers of the Week: Macy Ganatos and Kadin Borck; and Swimmers of the Week: Aurora Peterson, Macy Ganatos, Amy Sawicki, Kamrin Borck, Danny Sullivan, and Mackenzie Boress. Great job!!

Join us at Raging Waves on Tuesday, July 1. Please make sure your permission slips are turned in and let Erin know if you are interested in driving. The theme for Wednesday's campfire is Red, White, and Blue. There is NO program on July 4th; however, the pool will be open from 11-7 and there will be awards at the Raths at 7 with a Pie Eating Contest to follow.

Save the date!! The 2014 Water Show is Saturday, July 12th! There will be a costume meeting this Wednesday at 3 at the pool.

On occasions when the weather is severe, the STAFF will take the campers to the Raths. As a reminder, the STAFF will only release campers to their parent, guardian, or designated camp adult. The Youth Committee asks that the adult in charge that day please pick up your camper from the Raths at the end of program that day. Please also make sure that both your camper and your designated camp adult knows when they are responsible for your camper. Ashley Stevenson

Adopt Your Local Washroom The neighborhood cottage owners are responsible for keeping the washrooms clean and usable! Treat it like your washroom at home. Don't leave paper on the floor, or the sink a mess. If you don't like cob-webs, plan a neighborhood clean-up day soon. Make it as nice as you want to make it!!!

Clean Up We are working very hard to have the public buildings and grounds ready for the start of season but we must look to the cottage owners to take care of their cottage and the grounds surrounding it. Please clean up, fix up and paint up. Grass must be cut. If a cottage owner doesn't cut their grass, Camp will do it and charge the owner. The fee escalates if we have to mow additional times. Please do NOT burn leaves around your cottage. Place all landscape waste in the concrete bunkers and Camp will store it until the next burning season or conduct controlled burns as necessary. Camp is permitted to burn in emergency situations.

BRICKS! BRICKS! BRICKS! The first order of approximately 350 Engraved Bricks has been placed and will be arriving later this month. But it's not too late to get in on the Brick Campaign. I will be placing another order later this month. (It's hopeful, but not guaranteed that these bricks will arrive in time for Founder's Day) So pick up an order form down in the Raths, Or go online to www.illinoisturners.org and download a form. Completed forms should be given to or sent to Pam Lau, 740 Harper Ave., Cary, IL 60013. Orders may also be sent via email (with a check to follow) to plauquilts@sbcglobal.net. Bricks make great gifts as well.

Pardon our Dust! The preparation for the installation of the memorial bricks will begin soon. The location is between the Ladies Clubhouse and the Barenhohle, a short walk from the Alfred Wild memorial. The bricks many of you have so kindly purchased will form the center, with plenty of room for future expansion as new bricks are added. The entrance will be a scale replica of the 1930-1940s era archway. Great things to come!

Cottage Rentals If you are renting your cottage please remember the following simple things. First, any renter must be a 90 day member of one of the Illinois District Turner Societies. Second, you must notify the camp committee in writing of your intention to rent. If you don't notify the camp committee, pool and youth program privileges cannot be extended to your renters.







| | | |
| --- | --- | --- |
| Camp Bulletin Week Three 2014 | | |

Written by Scott Lau

Friday, 20 June 2014 13:32

Week Three 2014

For a downloadable PDF of this bulletin click here.






























Parking Yes it's everyone's favorite subject. Other than 10-15 minutes to unload your car, there is no parking allowed by your cottage. No one wants to look out their window at someone's car. Please be courteous to your neighbors. Initial violations will receive a warning letter. Second violations a $25 fine. Third and subsequent violations a $50 fine. If you have a handicapped permit from the state, please provide a written request and copy of permit to the camp committee. Some citations have already been handed out! Park in the lot and avoid the fines!

Raths We've now got Pabst Blue Ribbon in bottles – PBR me! Make your plans, Friday June 27 DJ Ed will be playing on the patio. Friday July 11 Hudson-McCoy will be playing on the patio live.

Ladies Our Card Party is will be on Saturday, July 19th. Ann Trankle

T-Bay The second annual T-BAY pizza party and silent auction will be held Wednesday June 25th from 6 to 8:30. The cost for pizza is $5 a person or $20 a family. We will be raffling off some great prizes at the silent auction so be sure to stop on by. All proceeds from the fundraiser will go towards improving the pool. We are still looking for items to raffle off at the auction so if you have any items or talents you'd be willing to donate we would greatly appreciate it. If you have any questions feel free to contact me Via email erin.lau@cuw.edu or cell (847) 525-7051.

New Cottage Owners All new cottage owners are required to attend a new owners orientation meeting before their purchase is finalized by the District. These are held before each Cottage Owners Meeting during the summer at the Raths. The next meeting is this Sunday, June 22 at 10a. All new owners are also on probation for at least one year or until they attain three years of membership.

Convention We will be hosting the National Convention of the American Turners on August 15-17. We need three or four office assistants to help with registration, the minutes, committee reports, copying and collating. These individuals must be available Friday, Saturday and Sunday until each part of the job is completed. Ideally, we'd like good typing and computer skills, familiarity with office copiers and equipment, and ability to work under pressure. A small stipend will be offered for the work. If you'd be interested in being a part of this Convention, please contact Cheryl Bothfeld at cbothfeld@hotmail.com or anytime at Camp.

Thank You! What keeps camp going and the spirit of Turnerism strong are the many individual efforts of individual Turners. Here are a number that deserve recognition.

Thank you Bridgette McHugh for lovingly restoring the murals in the Rathskeller! They look unbelievably great and just in time for the 100th anniversary season!

Thank you to Cindy Ryba and Merlee Lange for the donation of two new chaise lounge chairs at the pool in memory of their mother, Muriel Friese!

Thank you to the Scott Garelli family for the donation of four new strap dining chairs at the pool!

Thank you to Jerry Naegele for the donation of a microphone for the Raths P.A. system, rebuilding the outside patio speaker, and general system tune up to get it working so we can all hear the food orders being called!


































YOUTH The 2014 season is off to a great start! Please stay after awards tonight for BINGO! You don't want to miss it! Thank you to those who volunteered to drive on our field trip at Mega Trampoline. Everyone had a great time! Congratulations to the first week's Campers of the Week: Ava Pardo and Nick Lingner; and Swimmers of the Week: Sophie Shannon, Eddy Shannon, Kadin Borck, Ray Koehler, Kylie Borck, and Abby Garelli. Great job!! Don't miss the 2014 Rock Concert next Friday, June 27. The campers will be practicing for this all week. The theme for Wednesday's campfire will be Hollywood. Don't forget that this week's campfire will be held at the Raths in conjunction with TBAY. New to the program or looking for more information? Check out the Youth portion of the Turner website. All forms and documents are available there. You can also talk to a member of the Youth Committee, Erin Lau, or Alexa Beshorner. Ashley Stevenson

Adopt Your Local Washroom - Camp provides a daily clean-up and supply refresh. Please note that this is daily. Between camp cleanings, it is the neighborhood cottage owners who are responsible for keeping the washrooms clean and usable! Treat it like your washroom at home. Don't leave paper on the floor, or the sink a mess. If you don't like cob-webs, plan a neighborhood clean-up day soon. Make it as nice as you want to make it!!!

Clean Up We are working very hard to have the public buildings and grounds ready for the start of season but we must look to the cottage owners to take care of their cottage and the grounds surrounding it. Please clean up, fix up and paint up. Grass must be cut. If a cottage owner doesn't cut their grass, Camp will do it and charge the owner. The fee escalates if we have to mow additional times. Please do NOT burn leaves around your cottage. Place all landscape waste in the concrete bunkers and Camp will store it until the next burning season or conduct controlled burns as necessary. Camp is permitted to burn in emergency situations.

BRICKS! BRICKS! BRICKS! The first order of approximately 350 Engraved Bricks has been placed and will be arriving later this month. But it's not too late to get in on the Brick Campaign. I will be placing another order later this month. (It's hopeful, but not guaranteed that these bricks will arrive in time for Founder's Day) So pick up an order form down in the Raths, Or go online to www.illinoisturners.org and download a form. Completed forms should be given to or sent to Pam Lau, 740 Harper Ave., Cary, IL 60013. Orders may also be sent via email (with a check to follow) to plauquilts@sbcglobal.net. Bricks make great gifts as well.

Pardon our Dust! The preparation for the installation of the memorial bricks will begin soon. The location is between the Ladies Clubhouse and the Barenhohle, a short walk from the Alfred Wild memorial. The bricks many of you have so kindly purchased will form the center, with plenty of room for future expansion as new bricks are added. The entrance will be a scale replica of the 1930-1940s era archway. Great things to come!

Cottage Rentals If you are renting your cottage please remember the following simple things. First, any renter must be a 90 day member of one of the Illinois District Turner Societies. Second, you must notify the camp committee in writing of your intention to rent. If you don't notify the camp committee, pool and youth program privileges cannot be extended to your renters.

Weekly Bulletin The weekly bulletin is published each week by Scott Lau. If you'd like to publish an item, please give Scott your item or preferably email it to him at itc119rules@Hotmail.com by Wednesday of the weekend you'd like it published.




Cultural Committee News

Photography contest August 3rd. Entry forms are available on the Illinois District website or will be available June 21st at the Rath's.

Looking for Turner camp memorabilia to display during the weekend of Founder's day. Looking for pictures, slides, articles, bocce ball tournament plaques, or anything that involved Turner camp in the last 100 years. This will be displayed at the Ladies Clubhouse during the 100th anniversary. Please give these to Ann Trankle, Suzanne Potthast or Sue Knisley. Your help will be greatly appreciated so that everyone may see the history of Turner Camp.

There will be T-shirts designed by our own Jeff Tuecke and Ann Trankle. There will be children's size, women's and men. The T-shirts are arriving and will be for sale this weekend. There are limited sizes at this time but more can be ordered. Please be sure to see us and we will be happy to assist you in any way we can. There will also be Polo shirts available around July 1st. Cost is $10.00 for the t-shirts and the Polo shirts will be $15.00. Sue Knisley

FOUNDER'S DAY HOTELS If you know of anyone planning to make a trip in town for the Centennial Celebration over Founder's Day Weekend (August 1-4th), please let them know that we have a block of rooms set aside at the Holiday Inn in Crystal Lake ($124/nt.) and The Country Inn and Suites in Crystal Lake ($95/nt.). Tell them to mention Illinois Turner Camp when booking to reserve our special rate. To receive the special rate, they must book by June 30th.

Founders Day Contests As a part of this year's Founder's Day celebration we will be having a float and cottage decoration contest. There will be three categories: originality, most humorous, and most German inspired. Please let us know your group or cottage number and which category you will be entering your float or cottage in. All entries will be judged and awards will be presented at the Founder's Day celebration. mspcmoga@sbcglobal.net

Adult Recreation With the Youth program starting this coming Monday. It is also time for the return of the Grown Up Athletic Program! This year we will have athletic activities for all adults on Mondays, Tuesdays, and Wednesdays from 6:30/7:00 until 8:30 while the kids are at their evening activities. We will still have Volleyball on Mondays and Basketball on Wednesdays but this year due to popular demand we will have pickle ball on Tuesdays. In addition, Tennis Sunday and Monday at 9a, and Thursday's at 6p. Paddling Monday at 6p (canoes and kayaks available). Cycling Saturday at 8a in the big parking lot, must have your own bike. Finally, yoga at the shelter on Friday's June 20 & 27, July 11, 18, & 25, August 1, 8, &15 at 5p ($10 per person, certified yoga instructor). These are great opportunities for everyone to get out after work and get some exercise. You do not have to be the best player in the world to come out and have a good time. We had a tremendous response last year and I am hoping we will see many more people participating this year. If you have any questions please let me know. Nick Barts and Susie Moga (mspcmoga@sbcglobal.net)

Recycling For your convenience, a recycling dumpster has been placed in the big parking lot. It is located to the right of the regular garbage dumpster. The recycling dumpster is a single stream dumpster, that means it will accept all recyclable materials, Including paper, plastic, aluminum and steel and glass bottles, ( PLEASE NO WINDOW PANE GLASS )

PLEASE NO WET NEWSPAPERS, FOAM, PIZZA BOXES, YARD WASTE, or WINDOW PANE GLASS

We would appreciate if you separate your aluminum cans (beer cans and soda cans) and place them in the blue 55 gallon barrels labeled CANS ONLY they are next to the recycling dumpster. For everyone's convenience these blue barrels marked CANS ONLY are also placed next to each of the regular garbage dumpster that are located throughout camp. The content in these blue barrels will be collected and brought in by the youth committee; the money from these recyclables will be used to enhance the youth program. The recycling program has been a long time coming. The more everyone participates the more successful it is.

Remember it is our camp. Treasure it don't trash it!

We would like to thank all of our Turner families in advance for your participation in this program.

Building and Grounds




| | | |
| --- | --- | --- |
| Camp Bulletin Week Two 2014 | | |

Written by Scott Lau

Friday, 13 June 2014 09:39

Week Two 2014

For a downloadable PDF of this bulletin click here.






























Parking Yes it's everyone's favorite subject. Other than 10-15 minutes to unload your car, there is no parking allowed by your cottage. No one wants to look out their window at someone's car. Please be courteous to your neighbors. Initial violations will receive a warning letter. Second violations a $25 fine. Third and subsequent violations a $50 fine. If you have a handicapped permit from the state, please provide a written request and copy of permit to the camp committee.

Cottage Rentals If you are renting your cottage please remember the following simple things. First, any renter must be a 90 day member of one of the Illinois District Turner Societies. Second, you must notify the camp committee in writing of your intention to rent. If you don't notify the camp committee, pool and youth program privileges cannot be extended to your renters.

Raths We've got some new additions to the line up this year. We're expanding our craft beers to include Redd's Apple Ale and Leinenkugel's Summer Shandy. For a limited period we also have some Goose Island 312 and Urban Ale. Please note, time marches on and our product costs rise. So you'll notice a $0.25 rise in some product costs this season. We're still the best deal in town, night in and night out!

Cottage Ground Leases – Full ground lease payment including all fees, fines, penalties and interest was due by June 9. If you are not paid in full, you cottage will be padlocked and you will not be able to enjoy your cottage owner privileges. Any questions email Treasurer Shawn Stevenson at Shawn.Stevenson10@gmail.com.

Ladies Our Card Party is will be on Saturday, July 19th. Ann Trankle

T-Bay The second annual T-BAY pizza party and silent auction will be held Wednesday June 25th from 6 to 8:30. The cost for pizza is $5 a person or $20 a family. We will be raffling off some great prizes at the silent auction so be sure to stop on by. All proceeds from the fundraiser will go towards improving the pool. We are still looking for items to raffle off at the auction so if you have any items or talents you'd be willing to donate we would greatly appreciate it. If you have any questions feel free to contact me Via email erin.lau@cuw.edu or cell (847) 525-7051.

New Cottage Owners All new cottage owners are required to attend a new owners orientation meeting before their purchase is finalized by the District. These are held before each Cottage Owners Meeting during the summer at the Raths. The next meeting is June 22 at 10a. All new owners are also on probation for at least one year or until they attain three years of membership.

Convention We will be hosting the National Convention of the American Turners on August 15-17. We need three or four office assistants to help with registration, the minutes, committee reports, copying and collating. These individuals must be available Friday, Saturday and Sunday until each part of the job is completed. Ideally, we'd like good typing and computer skills, familiarity with office copiers and equipment, and ability to work under pressure. A small stipend will be offered for the work. If you'd be interested in being a part of this Convention, please contact Cheryl Bothfeld at cbothfeld@hotmail.com or anytime at Camp.



























Youth The 2014 season is off to a great start! Be sure to get ready for Match Game tonight after awards. Don't miss the field trip this week Wednesday, June 18 to Mega Trampoline. Meet in the Big Parking Lot. The campfire theme that night is circus! Mark your calendar for our 2nd annual TBAY fundraiser on Wednesday, June 25 and the Rock Concert on Friday, June 27. Please see Erin if you have anything you would like to donate for the TBAY fundraiser. Ashley Stevenson

Adopt Your Local Washroom - Camp provides a daily clean-up and supply refresh. Please note that this is daily. Between camp cleanings, it is the neighborhood cottage owners who are responsible for keeping the washrooms clean and usable! Treat it like your washroom at home. Don't leave paper on the floor, or the sink a mess. If you don't like cob-webs, plan a neighborhood clean-up day soon. If you'd like to get a crew to paint your bathroom, see the facility manager Jack Bucaro and camp will provide the supplies. Make it as nice as you want to make it!!!

Clean Up We are working very hard to have the public buildings and grounds ready for the start of season but we must look to the cottage owners to take care of their cottage and the grounds surrounding it. Please clean up, fix up and paint up. Grass must be cut. If a cottage owner doesn't cut their grass, Camp will do it and charge the owner. The fee escalates if we have to mow additional times. Please do NOT burn leaves around your cottage. Place all landscape waste in the concrete bunkers and Camp will store it until the next burning season or conduct controlled burns as necessary. Camp is permitted to burn in emergency situations.

Committee Corner – each week we will highlight one of the committees that share responsibility for running camp. The Bar Committee has responsibility for the Rathskeller bar operations, specifically:

Hire, train, and oversee bar tenders

Manage product inventory

Keep the bar well supplied

Oversee nightly operations

Schedule and book entertainment

Coordinate activities with restaurant, youth and general camp schedule

BRICKS! BRICKS! BRICKS! The first order of approximately 350 Engraved Bricks has been placed and will be arriving later this month. But it's not too late to get in on the Brick Campaign. I will be placing another order later this month. (It's hopeful, but not guaranteed that these bricks will arrive in time for Founder's Day) So pick up an order form down in the Raths, Or go online to www.illinoisturners.org and download a form. Completed forms should be given to or sent to Pam Lau, 740 Harper Ave., Cary, IL 60013. Orders may also be sent via email (with a check to follow) to plauquilts@sbcglobal.net. Bricks make great gifts as well.

Weekly Bulletin The weekly bulletin is published each week by Scott Lau. If you'd like to publish an item, please give Scott your item or preferably email it to him at itc119rules@Hotmail.com by Wednesday of the weekend you'd like it published.

Youth Group Sponsors Parents, if you plan to be a sponsor for either the Tweenies or the Juniors clubs you need to inform the camp committee. While the Tweenie Pancake Breakfast and the Junior Penny Social are on the camp calendar, they WILL NOT occur without a parent sponsor for each group. If you are not sure what being a sponsor entails, see a previous sponsor or a camp committee member.




Cultural Committee News

Photography contest August 3rd. Entry forms are available on the Illinois District website or will be available June 21st at the Rath's.

Looking for Turner camp memorabilia to display during the weekend of Founder's day. Looking for pictures, slides, articles, bocce ball tournament plaques, or anything that involved Turner camp in the last 100 years. This will be displayed at the Ladies Clubhouse during the 100th anniversary. Please give these to Ann Trankle, Suzanne Potthast or Sue Knisley.

T-shirt should be arriving for the 100th anniversary around the weekend of the 13th. We ordered some sizes and styles and are planning to order more as needed. We will have someone available at the Rath's to help with the orders. The design on the front of the shirt was by Jeff Tuecke and the sleeve design was from Ann Trankle. Please stop by and see us. Sue Knisley

FOUNDER'S DAY HOTELS If you know of anyone planning to make a trip in town for the Centennial Celebration over Founder's Day Weekend (August 1-4th), please let them know that we have a block of rooms set aside at the Holiday Inn in Crystal Lake ($124/nt.) and The Country Inn and Suites in Crystal Lake ($95/nt.). Tell them to mention Illinois Turner Camp when booking to reserve our special rate. To receive the special rate, they must book by June 30th.

Founders Day Contests As a part of this year's Founder's Day celebration we will be having a float and cottage decoration contest. There will be three categories: originality, most humorous, and most German inspired. Please let us know your group or cottage number and which category you will be entering your float or cottage in. All entries will be judged and awards will be presented at the Founder's Day celebration. mspcmoga@sbcglobal.net

Adult Recreation With the Youth program starting this coming Monday. It is also time for the return of the Grown Up Athletic Program! This year we will have athletic activities for all adults on Mondays, Tuesdays, and Wednesdays from 6:30/7:00 until 8:30 while the kids are at their evening activities. We will still have Volleyball on Mondays and Basketball on Wednesdays but this year due to popular demand we will have pickle ball on Tuesdays. In addition, Tennis Sunday and Monday at 9a, and Thursday's at 6p. Paddling Monday at 6p (canoes and kayaks available). Cycling Saturday at 8a in the big parking lot, must have your own bike. Finally, yoga at the shelter on Friday's at 5p ($10 per person, certified yoga instructor). These are great opportunities for everyone to get out after work and get some exercise. You do not have to be the best player in the world to come out and have a good time. We had a tremendous response last year and I am hoping we will see many more people participating this year. If you have any questions please let me know. Nick Barts and Susie Moga (mspcmoga@sbcglobal.net)

Recycling For your convenience, a recycling dumpster has been placed in the big parking lot. It is located to the right of the regular garbage dumpster. The recycling dumpster is a single stream dumpster, that means it will accept all recyclable materials, Including paper, plastic, aluminum and steel and glass bottles, ( PLEASE NO WINDOW PANE GLASS )

PLEASE NO WET NEWSPAPERS, FOAM, PIZZA BOXES, YARD WASTE, or WINDOW PANE GLASS

We would appreciate if you separate your aluminum cans (beer cans and soda cans) and place them in the blue 55 gallon barrels labeled CANS ONLY they are next to the recycling dumpster. For everyone's convenience these blue barrels marked CANS ONLY are also placed next to each of the regular garbage dumpster that are located throughout camp. The content in these blue barrels will be collected and brought in by the youth committee; the money from these recyclables will be used to enhance the youth program. The recycling program has been a long time coming. The more everyone participates the more successful it is.

Remember it is our camp. Treasure it don't trash it!

We would like to thank all of our Turner families in advance for your participation in this program.

Building and Grounds



«

Start

Prev

1

2NextEnd »
Page 1 of 2