Feed Entries
Camp Bulletin
| | | |
| --- | --- | --- |
| Camp Bulletin Week Eight 2016 | | |
Written by Chris Mostyn
Friday, 22 July 2016 14:39
Week Eight 2016
For a downloadable PDF of this bulletin click here.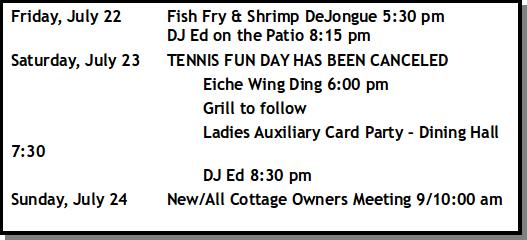 Restaurant – another great weekend of culinary delights is coming!
 Friday Fish Fry special is Shrimp DeJongue w/choice of potato & the trimmings. Oooh, you can just smell the garlic.
 The Saturday dinner is the Eiche Wingfest. We'€™ve laid in a supply of some extra meaty wings and the Eiche crew is brewing up some great sauces. Come down and taste them all before heading up to the Ladies Card Party!
 Next weekend'€™s offerings – Founders Day Weekend Meals
o Friday Fish Fry Special is Smoked Butt mitt Kraut and choice of potato.
o The Founders Day celebration dinner is Saturday evening at 6p. You will have a choice of Sauerbraten or pork roast w/spaetzli, red cabbage, salad and the fixings.
 Thanks to Laura Oroni and her crew for a fabulous turkey dinner this past Saturday night.
 If you have a special meal you'€™d like to make that serves 20-30 for a Friday Night next summer, please see me, Scott Lau
Did you know?
 Chris Mostyn -€" puts together the weekly Camp Bulletin every week? Thanks Chris!
 Roy Fenton -€" saw the Wild Memorial flag pole rope had rotted and fallen off the pole thereby making flying a flag impossible. He secured new materials and coordinated with the Fox River Grove Fire Department to help install and the flag is flying again. Thanks Roy!
Founders Day -€" just a reminder that the annual Founders Day celebration has been moved up one weekend to July 30 due to the National Turners convention in Clinton, MA. The parade and celebration have also been moved to Saturday so more people can participate.
Live Entertainment – we have some great acts lined up for you this summer.
 DJ Ed every Saturday night
 7/30 -€" Founders Day Party Oom Pah Band & DJ Ed at breaks and after
 8/12 -€" Hudson McCoy Band
 9/2 - Elvis & Johnny Cash impersonators and other sounds
Camp Volunteer Opportunities – great news! Karen Gunderson and Donna Sawicki have agreed to lead the Candy Store next year. Thanks to these two ladies for stepping forward to keep a great camp tradition alive!!!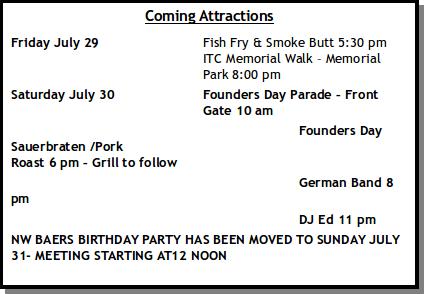 Facility Manager – as many of you know Dave Cross is the Camp Facility Manager and has been doing a great job making upgrades and improvements all around camp. He is a busy person so please be courteous and understanding of his time. He often is working on something that may take hours or even multiple days and has to plan his time wisely. If you observe something broken or not working, please report it to Dave. But please don't expect him to drop whatever he's working on and run right over. Dave has to manage his time to get work done and may not be coming to that side of camp until later. If Dave asks you to follow a rule or explains how you can be in compliance please follow his suggestions. He is an extension of the Council and Camp Committee.
YOUTH: The 9 and under sleepout is this Wednesday. Campers who intend on sleeping out should be at the €œDr. Seuss'€ themed campfire beforehand. On Thursday, the 10 and overs will be going on a field trip to Battle House Laser Tag and the 9 and unders can choose to sleep in. Please make sure you have your permission slips turned in and let Erin know if you are interested in driving. Mark your calendars for the 10 and over sleepout on Wednesday, August 3rd. Campers who intend on sleeping out should be at the "Superhero" campfire beforehand. On Thursday, August 4th, the 9 and unders will be going on a field trip and the 10 and overs can choose to sleep in. The Staff breakfast is Friday, July 29th in the dining hall and the Talent Show is set for that night after awards. Mark your calendars for Tuesday, August 2nd. It's bring your parent/guardian to program day!
| | | |
| --- | --- | --- |
| Camp Bulletin Week Seven 2016 | | |

Written by Chris Mostyn

Friday, 15 July 2016 14:10

Week Seven 2016

For a downloadable PDF of this bulletin click here.






































Restaurant - another great weekend of culinary delights is coming!

---- ï' Friday Fish Fry special is Braised Beef Short Ribs w/choice of potato & the trimmings.

---- ï' The Saturday dinner is Thanksgiving in July. Laura Oroni's delicious Turkey dinner with all trimmings, preceded by the Martini Bar

---- ï' Next weekend's offerings

Friday Fish Fry Special is Shrimp DeJongue

The Saturday Dinner is the Eiche Chicken Wing Fest, you pick the sauce!

---- Thanks to our cooks, crews, and Kitchen Committee members for some great meals already - it takes a village

Joe Gatz for his pulled pork dinner

The Dorn/Mostyn Family for their Family Breakfast

---- ï' If you have a special meal you'd like to make that serves 20-30 for a Friday Night next summer, please see me, Scott Lau

Live Entertainment - we have some great acts lined up for you this summer.

-------- DJ Ed every Saturday night

-------- 7/15 - Hudson McCoy Band

-------- 7/30 - Founders Day Party Oom Pah Band & DJ Ed at breaks and after

-------- 8/12 - Hudson McCoy Band

-------- 9/2 - Elvis & Johnny Cash impersonators and other sounds

Camp Volunteer Opportunities - thanks to those that have stepped forward, but we still have one opening

Candy Store - the Candy Store is one of those wonderful camp traditions that has endured for decades. However it is in need of a new coordinator(s) for next season, or it will not open!!! Please consider stepping up and making your mark in camp by taking over the Candy Store coordination. Maybe you and a friend or two can split the work? Please see Shawn Dahm or Barb Litza if interested for more information

Youth - thanks to Kate Ganatos for volunteering to be next year's Youth Chairman. Kate grew up in Northwest Turners, and was at camp/program every year. She went on to become an ITC counselor & lifeguard and is now a teacher. Kate's background and work experience make her an excellent fit to lead the Youth Committee. She will bring fresh ideas to the program as well as the appreciation for camp and it's wonderful traditions. Please welcome Kate!!!























































Facility Manager - as many of you know Dave Cross is the Camp Facility Manager and has been doing a great job making upgrades and improvements all around camp. He is a busy person so please be courteous and understanding of his time. He often is working on something that may take hours or even multiple days and has to plan his time wisely. If you observe something broken or not working, please report it to Dave. But please don't expect him to drop whatever he's working on and run right over. Dave has to manage his time to get work done and may not be coming to that side of camp until later. If Dave asks you to follow a rule or explains how you can be in compliance please follow his suggestions. He is an extension of the Council and Camp Committee.

YOUTH: What a great Water Show! Thank you to everyone who attended the show and who volunteered to help set up and take down the backdrop! Thank you to Kim Beschorner and Tamara Byrne for the temporary shades above the baby pool they donated. Don't miss the Pie Eating Contest after awards tonight!

Congratulations to last week's Campers of the Week: Addison DeRusha and Keith Koehler; and last week's Swimmers of the Week: Declan DeRusha, Lia Ganatos, Sophie Shannon, Cassidy Webb, Katie Valentine, and Nick Garelli. Great job!! Thank you to our parents and guardians who volunteered to drive on our field trip last week. Everyone had a great time! Our TBAY fundraiser was another huge success. Thank you to everyone who donated and participated.

Next week is Olympic Week! Campers will be put in teams and compete in a variety of sports and games. The campfire theme is Team Spirit! Mark your calendars for the 9 and under sleepout on Wednesday, July 27. Campers who intend on sleeping out should be at the Dr. Seuss campfire beforehand at the pool. On Thursday, July 28, the 10 and overs will be going on a field trip to Battle House Laser Tag and the 9 and unders can choose to sleep in.

If your camper is interested in participating in our weekly cooking class, please make sure they turn in their cooking forms each week to Kelli or Jodi by Monday's swim lessons. This is important so they can plan food accordingly for the campers.




The ITC Youth Program is selling a limited number of beach towels again! This is a fundraiser to benefit the Youth Program. You can purchase your towel at the Candy Store. Towels are $20 each and checks can be made payable to Illinois Turner Camp. The Candy Store also has 100 year t-shirts and mugs available for purchase.

The lifeguards would appreciate your help during the week with collecting admission. If you bring a guest up to the pool during the week, please pay one of the lifeguards who are not sitting in the chair. Thank you!

VOLLEYBALL TOURNAMENT - SATURDAY @ 9:00am at the volleyball courts. There is still time to get into the tournament. Either see Jim Haderlein tonight (Friday) at the Raths or be at the courts at 8:45 AM with your team . Be ready to play at 9:00AM. See you there.

Ladies Club House: Don't forget our Card and Game Nite on Saturday, July 23rd - 7:30 P.M. Dining Room. Ann




Following the cottage owners meeting on Sunday July 24th there will be an informal Northwest Turner meeting. There will be a short presentation by Cory Litza and the future committee on their findings. All NW Turners are urged to attend. Barb Litza




Hello Turner Volleyball Players - The American Turner are putting on a volleyball tournament in Madison WI a short drive away. Minor children of members are welcome - Make it a family weekend Seniors Friday 7/29, Men's 7/30, Lady's 7/30, Co Rec 7/31. I am putting together teams. Please let me know in what divisions you and your cohorts want to play. ROSTERS ARE DUE ON WEDNESDAY JULY 6TH. Contact Bob at 773-859-2398




2016 Turner Trot -1.5 Mile Run / Walk. All abilities, strollers and Turner friends welcome

Saturday, August 6th10:30 AM Race Start Turner A-Field

9:00 Same Day Registration and packet pick up

Register online at www.turnertrot2016.racewire.com

Cook-out, music and raffles following at the A-Field. Runners receive $1.00 off when you show your race bib!

$25 Registration Fee for 13 years or older

$15 for kids 12 and under

Proceeds Benefit the New, Safer Playground FundLet me know that you get this. Thanks Amy







Ladies Club House: Don't forget our Card and Game Nite on Saturday, July 23rd - 7:30 P.M. Dining Room. Ann

Weekly Bulletin - The weekly bulletin is being published by Chris Mostyn. If you would like to publish an item please email me no later the Wednesday afternoon at healingpajamas@yahoo.com.

Thank you, Chris




Last Updated on Friday, 15 July 2016 14:28

| | | |
| --- | --- | --- |
| Camp Bulletin Week Six 2016 | | |

Written by Chris Mostyn

Thursday, 14 July 2016 10:54

Week Six 2016

For a downloadable PDF of this bulletin click here.


































Restaurant - another great weekend of good eats is on tap!

Friday Fish Fry special is Joe Gatz's fabulous pulled pork. He'll be lovingly smoking the pork all day to have it ready for dinner time!

-· Saturday night following the Water Show we'll have a Maxwell Street Polish Sausage with grilled onions available in addition to the usual grill and pizza items

-· Sunday morning is the Dorn Family Breakfast from 8:30a-11a.

-· Come on down for eggs, bacon, sausage, omelets, pancakes, and more. Cooked to order!

-· Next weekend's offerings

Friday Fish Fry Special is Braised Beef Short Ribs

Saturday dinner is Thanksgiving in July. Laura Oroni's delicious Turkey dinner with all trimmings

Thanks to our cooks, crews, and Kitchen Committee members for some great meals already - it takes a village!

Randy Klemm and Elgin crew for the Lasagna dinner

Dave Zweifel, Sue Potthast and the Lincoln Team for the knockwurst dinner

The Stevensons, Livingstons, and the Williams for the first Family Breakfast

Sue Knisley and the Aurora Team for the Prime Rib dinner

Donna and Cory Litza and Family for the Ribfest dinner

The Fish Fry crew for every Friday night, Jim Gersbrein, Randy Roe, Tim Zbinden, and Tom Webb

Mary Becker, Barb Dorn, and Cheryl Bothfeld for putting the pots & pans away and keeping our kitchens clean and tidy

Tom Webb for cleaning and/or replacing the deep fryer oil each week and putting the orders away





































Pam Lau for calling in the orders and doing the weekly shopping at Sam's Club




Live Entertainment - we have some great acts lined up for you this summer.

DJ Ed every Saturday night

7/15 - Hudson McCoy Band

7/30 - Founders Day Party Oom Pah Band & DJ Ed at breaks and after

8/12 - Hudson McCoy Band

9/2 - Elvis & Johnny Cash impersonators and other sounds

Camp Volunteer Opportunities - Turner Camp is a significant size business entity for the five months around camp season and takes a lot of effort to ensure things run smoothly. Outside of Dave Cross, our facility manager, and the seasonal youth counselors and pool staff. The operations at Turner Camp are run entirely by volunteers. If you own a one room cottage. For a bit over $1,000 each year you enjoy all of the things which camp offers including the nine-week youth camp program for your children, a heated pool, tennis, pickle ball, & volleyball courts, $100 to spend at the Rathskeller that has entertainment every weekend in season, and all the gemutlichkeit unique to Turner Camp. Sooooooo, to help us keep the Camp experience affordable and going into our 2nd century we have some volunteer openings coming up for the 2017 season. It would be great to get some new enthusiastic people to start working with our current chairmen to have a nice easy transition. I've heard from some but here's what's still needed.

Candy Store - thanks to Shawn Dahm & Barb Litza for leading the Candy Store for the last 10 years or so! They've given the store a fresh look, expanded the menu, and have brought 1000s of smiles to little faces. They are retiring after this season and we're looking for a person or two to work with them this summer to learn the ropes and take over in 2017. Primary duties are getting and keeping the store clean over the summer, ordering and stocking product, and coordinating the assigned volunteers. Please see Shawn or Barb if interested for more information.

Pool - thanks to Dave Zweifel for stepping forward and agreeing to be the new Pool Chairman!!!

Youth - thanks to Laura Oroni and Ashley Livingston for their many years as our youth co-chairs! Laura and Ashley went from campers, to youth staff and finally Youth Committee co-chairs and have helped guide the program in the Turner traditions as well as working with the staff each year to introduce new activities like lacrosse, cheer dance, and cooking. Primary duties include overseeing the hiring of the youth staff and day to day leadership of the program along with the youth staff directors. and So please see Laura and Ashley for more info if you are interested in helping lead the youth program in 2017.




VOLLEYBALL TOURNAMENT - Get your team together for the 4 person volleyball tournament on Saturday, July 16th at 9:00 AM. 3 different divisions so all skill levels can play. For more info call Jim Haderlein at 773-525-4666. For a roster, find Jim at the Raths on Saturday night or at the volleyball courts Sunday morning or go to www.illinoisturners.org.

Following the cottage owners meeting on Sunday July 24th there will be an informal Northwest Turner meeting. There will be a short presentation by Cory Litza and the future committee on their findings. All NW Turners are urged to attend. Barb Litza

Hello Turner Volleyball Players - The American Turner are putting on a volleyball tournament in Madison WI a short drive away. Minor children of members are welcome - Make it a family weekend Seniors Friday 7/29, Men's 7/30, Lady's 7/30, Co Rec 7/31. I am putting together teams. Please let me know in what divisions you and your cohorts want to play. ROSTERS ARE DUE ON WEDNESDAY JULY 6TH. Contact Bob at 773-859-2398




2016 Turner Trot -1.5 Mile Run / Walk. All abilities, strollers and Turner friends welcome

Saturday, August 6th10:30 AM Race Start Turner A-Field

9:00 Same Day Registration and packet pick up

Register online at www.turnertrot2016.racewire.com

Cook-out, music and raffles following at the A-Field. Runners receive $1.00 off when you show your race bib!

$25 Registration Fee for 13 years or older

$15 for kids 12 and under

Proceeds Benefit the New, Safer Playground FundLet me know that you get this. Thanks Amy




YOUTH: Be sure to stay after awards tonight and get your teams together to play Family Feud!

Don't miss the 2016 High School Musical Water Show on Saturday, July 9th at 6:00 pm! Please note that the pool will be closing at 4:00 pm to prepare for the show. Please let Alexa know if you are interested in helping set up and tear down the backdrop.

Congratulations to the last week's Campers of the Week: Amy Sawicki and Ale Byrne and Swimmers of the Week: Rora Peterson, Aydan Moore, Macy Ganatos, Addison DeRusha, Ale Byrne, and Kylie Borck. Great job!!

Let's have some fun in the sun! The campers will be going on a field trip to the Crystal Lake Beach on Tuesday, July 12th. Please make sure permission slips are turned in and that you let Erin know if you are able to drive. Don't miss our 4th annual TBAY fundraiser on Wednesday, July 13th at the Raths. The cost is $5/person or $20/family and it starts at 6:00 pm. In the past, the counselors have used the money raised from this fundraiser to give back to camp. They purchased a new sound system for the pool, new picnic table for the pool, new lifeguard buoys, and new backdrop boards for the water show and final show. They also donated money to the new park fund. Please let Erin know if you have anything to donate. See you there! The campfire theme this week is Safari .

If your camper is interested in participating in our weekly cooking class, please make sure they turn in their cooking forms each week to Kelli or Jodi by Monday's swim lessons. This is important so they can plan food accordingly for the campers.

The ITC Youth Program is selling a limited number of beach towels again! This is a fundraiser to benefit the Youth Program. You can purchase your towel at the Candy Store. Towels are $20 each and checks can be made payable to Illinois Turner Camp. The Candy Store also has 100 year t-shirts and mugs available for purchase.

The lifeguards would appreciate your help during the week with collecting admission. If you bring a guest up to the pool during the week, please pay one of the lifeguards who are not sitting in the chair. Thank you!




The 4th of July Rib Team - would like to thank all of you who came out and supported the dinner over the weekend. It has been a long time since we have seen the Raths that crowded for a meal and we hope you all enjoyed yourselves. It was good to catch up with Turner friends and share a meal and a story all while celebrating our Nation's birthday. A great deal of work went into bringing that meal to all of you and it couldn't have been done without the great support of the crew and a handful of volunteers. Special thanks go out to those volunteers: Gregg Stark, Sue Allen, Debbie Allen and May Becker for seeing we needed help and not waiting to be asked but stepping right in and doing it. Have a wonderful rest of the Summer and stay tuned for our next meal plans. With Turner Greetings, The 4th of July crew

VOLLEYBALL TOURNAMENT - Start getting your team together for the 4 person volleyball tournament on Saturday July 16th at 9:00 AM. 3 different divisions so all skill levels can play. Call Jim Haderlein at 773-525-4666 for more information.




Ladies Club House: Don't forget our Card and Game Nite on Saturday, July 23rd - 7:30 P.M. Dining Room. Ann




Hello Turner Volleyball Players - The American Turner are putting on a volleyball tournament in Madison WI a short drive away. Minor children of members are welcome - Make it a family weekend Seniors Friday 7/29, Men's 7/30, Lady's 7/30, Co Rec 7/31. I am putting together teams. Please let me know in what divisions you and your cohorts want to play. ROSTERS ARE DUE ON WEDNESDAY JULY 6TH. Contact Bob at 773-859-2398




Weekly Bulletin - The weekly bulletin is being published by Chris Mostyn. If you would like to publish an item please email me no later the Wednesday afternoon at healingpajamas@yahoo.com.

Thank you, Chris

Last Updated on Friday, 15 July 2016 14:12

| | | |
| --- | --- | --- |
| Camp Bulletin Week Five 2016 | | |

Written by Chris Mostyn

Friday, 01 July 2016 11:25

Week Five 2016

For a downloadable PDF of this bulletin click here.














































Restaurant €" the 4thof July weekend, another culinary adventure!

·Fish Fry €" the special is Guinness Beef Brisket w/choice of potato.

·Litza-Gebhart Ribfest €" Saturday, July 2nd, from 6pm €" 8pm Let's celebrate the 4th of July Weekend with a Rib Dinner in the Raths. Along with the Ribs will be a full salad bar, baked beans, corn souffle, potato bake and a variety of desserts.

·Pre-pay before July 2nd - 1/2 slab dinner: $10 Full slab dinner: $13

·Pay on July 2nd - 1/2 slab dinner: $12 Full slab dinner: $15

See you there in your Red, White and Blue!





Live Entertainment €" we have some great acts lined up for you this summer.





·7/1 €" Frank Sinatra impersonator with other sounds of the 60s & 70s

·7/15 €" Hudson McCoy Band

·7/30 €" Founders Day Party Oom Pah Band & DJ Ed at breaks and after

·8/12 €" Hudson McCoy Band

·9/2 €" Elvis & Johnny Cash impersonators and other sounds

·9/4 €" Keyboardist Peter Miletic





Wanted to thank everyone that came out to the Junior Penny Social. It was a long night but a great success. Thanks to the moms that came out to help with set up.

A big thank you to Chris Mostyn for donating her time helping set up and being our announcer for the evening. Thank you ShawnDahmfor always being there.

Thank you! Thank you! John Gebhardt for printing, cutting, and banding all the numbers. That in it self saved us so much time. Finally thank you to everyone that donated items. It could not happen without all of you!!

Now to plan our fun!

Now let's help the Tweenies make their breakfast a big success. Breakfast will be served Monday July 4th from 9-11. Anyone that has any new items that they would like to donate for the raffle we would be happy to pick them up. See Shawn Dahm, myself or any Tweenie.





























YOUTH: Don't miss Musical Chairs tonight after awards! Congratulations to last week's Campers of the Week: Macy Ganatos and Kadin Borck; and Swimmers of the Week: Frankie Bialk, Natalie Elste, Phillip Harris, Jackson Garelli, Amy Sawicki, and Julia Mrazek. Great job!!




There is no program on Monday, July 4th; however, the pool will be open from 10:30-7. Hope to see you at Wednesday's campfire. The theme is €œoccupations€!




The 2016 Water Show is Saturday, July 9th at 6:00 pm! Please note that the pool will be closing at 4:00 pm to prepare for the show. If you were unable to attend the costume meeting last week, there is one Wednesday, July 6th at 3:00 at the pool. If you are planning on being in the Water Show, you must be at program on Tuesday, July 5th and at least 3 days that week. If you are unable to attend program Tuesday, please talk to Alexa.




Don't miss our 4th annual TBAY fundraiser on Wednesday, July 13th at the Raths. The cost is $5/person or $20/family and it starts at 6:00 pm. In the past, the counselors have used the money raised from this fundraiser to give back to camp and the community. They purchased a new sound system for the pool, new picnic table for the pool, new lifeguard buoys, and new backdrop boards for the water show and final show. They also donated money to the new park fund. Please let Erin know if you have anything to donate. See you there!




The ITC Youth Program is selling a limited number of beach towels again! This is a fundraiser to benefit the Youth Program. You can purchase your towel at the Candy Store. Towels are $20 each and checks can be made payable to Illinois Turner Camp. The Candy Store also has 100 year t-shirts and mugs available for purchase.





TWEENIE BREAKFAST AND RAFFLE EXTRAVAGANZA€¦€¦.MONDAY JULY 4TH

Monday July 4th is the annual Tweenie Breakfast and Raffle. Come on down to the Dining Hall between 9am and 11am for a fabulous pancake breakfast including fresh fruit, bacon and juice, all served to you by the Tweenies. Breakfast will be followed by our raffle extravaganza for a chance to win cash and prizes. We arealso looking for donations to the raffle€¦.gift cards, garden/yard items, toys, etc. Any questions, feel free to contact Shawn Dahm @ 847/815-5328 or Barb Litza @ 847/366-5208

Plan on joining us for some great food and fun on the 4th of July. Thank you for supporting the Tweenies!! ~ Shawn Dahm









YOUTH: Thank you to all of our volunteers on our field trip to Feed My Starving Children. The campers learned to measure and pack food for children in need. It was a great experience for all who attended and taught the campers how to give back to the community.





Don't miss the 2016 Rock Concert after awards tonight! Congratulations to last week's Campers of the Week: Jacki VanDahm and Phillip Harris; and Swimmers of the Week: Jax Coffee, Sierra Bauman, Michael Bauman, Mikey Pardo, and Julia Mrazek. Great job!! The theme for Wednesday's campfire is Favorite Sports Team.





There is no program on Monday, July 4th; however, the pool will be open from 10:30-7.





Save the date!! The 2016 Water Show is Saturday, July 9th!Practice for the show will begin on Friday, July 1stdue to no program on Monday, July 4th. There will be costume meetings on Friday, July 1stand Wednesday, July 6that 3:00 at the pool. Please plan to attend one of these meeting. If you are planning on being in the Water Show, you must be at program on Friday, July 1stand at least 3 days the week of the show. If you are unable to attend program Friday, please talk to Alexa.





The ITC Youth Program is selling a limited number of beach towels again! This is a fundraiser to benefit the Youth Program. You can purchase your towel at the Candy Store. Towels are $20 each and checks can be made payable to Illinois Turner Camp. The Candy Store also has 100 year t-shirts and mugs available for purchase. Ashley





VOLLEYBALL TOURNAMENT - Start getting your team together for the 4 person volleyball tournament on Saturday July 16th at 9:00 AM. 3 different divisions so all skill levels can play. Call Jim Haderlein at 773-525-4666 for more information.





Ladies Club House:Don't forget our Card and Game Nite on Saturday, July 23rd - 7:30 P.M. Dining Room. Ann





Hello Turner Volleyball Players - The American Turner are putting on a volleyball tournament in Madison WI a shortdrive away. Minor children of members are welcome - Make it a family weekend Seniors Friday 7/29, Men's 7/30, Lady's 7/30, Co Rec 7/31. I am putting together teams. Please let me know in what divisions you and your cohorts want to play. ROSTERS ARE DUE ON WEDNESDAY JULY 6TH. Contact Bob at 773-859-2398





Weekly Bulletin - The weekly bulletin is being published by Chris Mostyn. If you would like to publish an item please email me no later the Wednesday afternoon at healingpajamas@yahoo.com.

Thank you, Chris

















| | | |
| --- | --- | --- |
| Camp Bulletin Week Four 2016 | | |

Written by Administrator

Sunday, 26 June 2016 13:21

Week Four 2016

For a downloadable PDF of this bulletin click here.














Restaurant -€" this weekend we have a wonderful weekend of eating possibilities for you this weekend!

-· Fish Fry -€" this week's special is Garlic Chicken with choice of potato, bread & slaw. We also have a new potato choice -€" fresh made potato chips. Get it as a dinner side or as a single order, and add cheese. Same price as French fries! We will also be doing presales for the upcoming Prime Rib and Rib Dinners at the Fish Fry order taker.

-·Aurora Prime Rib -€" Aurora will be roasting the Prime Rib on Saturday, June 25th, from 6:30p-8p. Along with a choice piece of beef will be mashed potatoes and gravy, green bean/mushroom soup casserole, salad, and pie. To be sure you get a dinner pre-buy in the next couple of Fridays.

-·Pre-pay before the dinner - $15/dinner

-·Pay at the dinner - $17/dinner

Restaurant -€" the 4th of July weekend, another culinary adventure!

-·Fish Fry -€" the special is Guinness Beef Brisket w/choice of potato.

-·Litza-Gebhart Ribfest -€" Let's celebrate the 4th of July Weekend with a Rib Dinner in the Raths on Saturday, July 2nd, from 6pm -€" 8pm. Along with the Ribs will be a full salad bar, baked beans, corn souffle, potato bake and a variety of desserts.

-· Pre-pay before July 2nd at the next few Fish Frys - 1/2 slab dinner: $10 Full slab dinner: $13

-·Pay on July 2nd - 1/2 slab dinner: $12 Full slab dinner: $15

See you there in your Red, White and Blue!

Live Entertainment -€" we have some great acts lined up for you this summer.

-· DJ Ed every Saturday night

-· 6/24 -€" DJ Ed on the Patio following the kids Rock Concert Acts

-·7/1 -€" Frank Sinatra impersonator with other sounds of the 60s & 70s

-·7/15 -€" Hudson McCoy Band

-·7/30 -€" Founders Day Party Oom Pah Band & DJ Ed at breaks and after

-·8/12 -€" Hudson McCoy Band

-·9/2 -€" Elvis & Johnny Cash impersonators and other sounds

-· 9/4 -€" Keyboardist Peter Miletic

































Camp Volunteer Opportunities -€" Turner Camp is a significant size business entity for the five months around camp season and takes a lot of effort to ensure things run smoothly. Outside of Dave Cross, our facility manager, and the seasonal youth counselors and pool staff. The operations at Turner Camp are run entirely by volunteers. If you own a one room cottage. For a bit over $1,000 each year you enjoy all of the things which camp offers including the nine-week youth camp program for your children, a heated pool, tennis, pickle ball, & volleyball courts, $100 to spend at the Rathskeller that has entertainment every weekend in season, and all the gemutlichkeit unique to Turner Camp. Sooooooo, to help us keep the Camp experience affordable and going into our 2nd century we have some volunteer openings coming up for the 2017 season. It would be great to get some new enthusiastic people to start working with our current chairmen to have a nice easy transition. Here's what's needed.

-·Candy Store -€" thanks to Shawn Dahm & Barb Litza for leading the Candy Store for the last 10 years or so! They've given the store a fresh look, expanded the menu, and have brought 1000s of smiles to little faces. They are retiring after this season and we're looking for a person or two to work with them this summer to learn the ropes and take over in 2017. Primary duties are getting and keeping the store clean over the summer, ordering and stocking product, and coordinating the assigned volunteers. Please see Shawn or Barb if interested for more information.

-·Pool -€" thanks to Scott Garelli for leading the pool for the last four years! The pool is always our go to place for fun in the sun and Scott and his crew have done a great job making sure everything is ready for our enjoyment. He is retiring so we're looking for a person or two to spearhead the pool committee and learn the ins and outs this summer and take over in 2017. Primary duties are coordinating the annual pool facility clean up in the spring, and ongoing monitoring over the summer. Please see Scott if interested for more information.

-·Youth -€" thanks to Laura Oroni and Ashley Livingston for their many years as our youth co-chairs! Laura and Ashley went from campers, to youth staff and finally Youth Committee co-chairs and have helped guide the program in the Turner traditions as well as working with the staff each year to introduce new activities like lacrosse, cheer dance, and cooking. Primary duties include overseeing the hiring of the youth staff and day to day leadership of the program along with the youth staff directors. and So please see Laura and Ashley for more info if you are interested in helping lead the youth program in 2017.




Ladies Club House: Thanks to all that came to help clean up the Ladies House last Saturday - inside and out. A great job!!!!!Don't forget our Card and Game Nite on Saturday, July 23rd - 7:30 P.M. Dining Room. Ann

Restaurant -€" this weekend we have a wonderful weekend of eating possibilities for you this










YOUTH: Thank you to all of our volunteers on our field trip to Feed My Starving Children. The campers learned to measure and pack food for children in need. It was a great experience for all who attended and taught the campers how to give back to the community.

Don't miss the 2016 Rock Concert after awards tonight! Congratulations to last week's Campers of the Week: Jacki VanDahm and Phillip Harris; and Swimmers of the Week: Jax Coffee, Sierra Bauman, Michael Bauman, Mikey Pardo, and Julia Mrazek. Great job!! The theme for Wednesday's campfire is Favorite Sports Team.

There is no program on Monday, July 4th; however, the pool will be open from 10:30-7.

Save the date!! The 2016 Water Show is Saturday, July 9th! Practice for the show will begin on Friday, July 1st due to no program on Monday, July 4th. There will be costume meetings on Friday, July 1st and Wednesday, July 6th at 3:00 at the pool. Please plan to attend one of these meeting. If you are planning on being in the Water Show, you must be at program on Friday, July 1st and at least 3 days the week of the show. If you are unable to attend program Friday, please talk to Alexa.

The ITC Youth Program is selling a limited number of beach towels again! This is a fundraiser to benefit the Youth Program. You can purchase your towel at the Candy Store. Towels are $20 each and checks can be made payable to Illinois Turner Camp. The Candy Store also has 100 year t-shirts and mugs available for purchase. Ashley

DO YOU WANT TO BE A TWEENIE, THEN COME ALONG WITH ME-€¦.TO THE TWEENIE MEETING!

What is a Tweenie? If you are a camper who is 11,12, or 13 years old, you are a Tweenie!! What do Tweenies do? Come to the Tweenie meeting Monday June 27 at 3pm, at the pool concession area to find out all the fun things we are planning this year. Can't wait to see you all there and if you can't make it, talk to Shawn Dahm.

SAVE THE DATE-€¦-€¦..TWEENIE BREAKFAST AND RAFFLE EXTRAVAGANZA-€¦-€¦.MONDAY JULY 4TH

Monday July 4th is the annual Tweenie Breakfast and Raffle. Come on down to the Dining Hall between 9am and 11am for a fabulous pancake breakfast including fresh fruit, bacon and juice, all served to you by the Tweenies. Breakfast will be followed by our raffle extravaganza for a chance to win cash and prizes. We are also looking for donations to the raffle-€¦.gift cards, garden/yard items, toys, etc. Any questions, feel free to contact Shawn Dahm @ 847/815-5328 or Barb Litza @ 847/366-5208

Plan on joining us for some great food and fun on the 4th of July. Thank you for supporting the Tweenies!! ~ Shawn Dahm




Weekly Bulletin - The weekly bulletin is being published by Chris Mostyn. If you would like to publish an item please email me no later the Wednesday afternoon at healingpajamas@yahoo.com.

Thank you, Chris











Last Updated on Friday, 01 July 2016 11:29